The San Diego Postpartum Health Alliance is a nonprofit dedicated to perinatal mental health awareness, education, and support.
---
Despite being the most common complication of childbirth, Perinatal Mood and Anxiety Disorders (PMADs) continue to be under-recognized, undiagnosed, untreated (although highly treatable), and stigmatized.
We work hard to change that.
You are not alone.
Perinatal Mood and Anxiety Disorders (PMADs) impact 1 in 5 moms (and 1 in 10 new dads).
We are here to help.
Whether you are personally struggling, a concerned love one, or a health professional, we at Postpartum Health Alliance can offer you personalized support and referrals to specialized San Diego professionals.
If you need immediate support please call the
San Diego Access and Crisis Line at 1-888-724-7240.
The toll-free call is available 24-hours a day, 7-days a week.
Join us for our next virtual education event!
PHA members April Douglas, PT, and Anna Yam, PhD will be leading this workshop, focused on pelvic pain in the perinatal period.
2 CEs will be available for participants who attend this event live via Zoom. Please select the CE ticket type to register for CEs.
CEs will only be granted to participants who select the CE ticket type.
Be the change.
3 EASY ways to make a BIG difference
1) IMPROVE YOUR PERINATAL SERVICES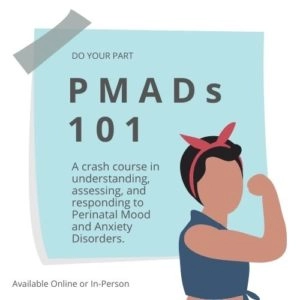 60% of PMADs in birthing-individuals go undetected. Non-birthing parents are rarely, if ever, screened.
This comprehensive, evidence-based training will provide you (or your entire team!) with the insight and tools necessary to incorporate PMADs' prevention and early intervention efforts into your services.
2) HELP REDUCE BARRIERS TO CARE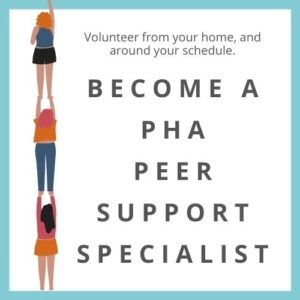 ONLY 15% of those struggling with PMADs receive the support they deserve.
If you're interested in having a direct impact on perinatal individuals in need, join our army of passionate volunteers and get trained to provide peer support and tailored referrals to parents who contact our warmline.
3) SUPPORT PROGRESS AT A LOCAL LEVEL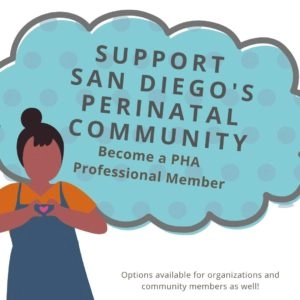 For over 20 years, PHA has promoted perinatal mental health and wellness on behalf of the San Diego community.
You can support PHA by joining our membership organization. In addition to the MANY personal benefits, 100% of your dues go towards advancing our cause.
Take a Screening Test
DO YOU FEEL LIKE YOU MIGHT BE EXPERIENCING PMADS? TAKE A SELF-ASSESSMENT TO FIND OUT IF YOU HAVE SYMPTOMS OF DEPRESSION OR ANXIETY AND SHARE THE RESULTS WITH YOUR HEALTH CARE PROVIDER.
Welcome
Established over two decades ago by a passionate group of clinical professionals, the Postpartum Health Alliance (PHA) has been advocating for parental mental health before it was cool. Now we are San Diego's go-to nonprofit for perinatal (pregnant and postpartum) families and professionals.
What's up with the blue dot?
The Blue Dot Project
A mom, a reproductive psychiatrist and a volunteer with Postpartum Health Alliance came together to create TheBlueDotProject. Receiving a generous grant from the Mason Hirst Foundation, the Project intends to change the face of Postpartum Depression and Anxiety by taking away the stigma and raising awareness.
The Blue Dot is the national symbol for maternal mental health survivor-ship, support, and solidarity.
Very often, when a parent is suffering from PMAD symptoms, it can be very isolating. The hope is that seeing these Blue Dot magnets and stickers around town, will spread the word: we are everywhere. Let them know they're not alone.